Rory
This user hasn't shared any biographical information
Posts by Rory
Golf in Gulf has been expanding at quite a rate over the past few years with Dubai leading thee line for the UAE for some time thanks to places like the Emirates Golf Club and the events like the Dubai Classic. Abu Dhabi however, has been playing catch up and now rivals and perhaps even surpasses Dubai as a world class golf holiday destination, highlighted of course by the Abu Dhabi HSBC Golf Championship which is a season opener for many of the biggest names in the game of golf. More >
Not just content with bringing you the best prices for the most popular golf holiday destinations in the world, Your Golf Travel are picking up in 2013 where they left off last year by offering golfers who book a golf break in January a fantastic reward for doing so.
Golfers who booked breaks in December are now hitting the fairways in style thanks to the fantastic "Get Trousered with Poulter" promotion and now, in partnership with Cleveland Golf, all those who book in January will be knocking down pins before they know it with their FREE Cleveland Wedge. More >
The five star Gleneagles Hotel and Golf Resort has been something of a Mecca for golfers since it opened its doors and golf courses to the public in the 1920s. It quickly established itself as one of the finest luxury destinations in Scotland and golf at Gleneagles was once a "de rigueur" point of call for the bright young things of high society. It has hosted many important golf tournaments over the years and its place in golfing history has now been further recognised by virtue of being chosen as the venue for the 2014 Ryder Cup. More >
A serious contender for the most exclusive course in the UK is Swinley Forest, located in the heart of Surrey–Berkshire Heathland, along with the famous Wentworth and Sunningdale golf courses. Not only is it probably one of the hardest courses in the UK to get on, it is also one of the purest examples of classic inland golf in all of Europe. The club is unashamedly exclusive, has always held a liberal attitude towards female members and has been run in the manner of a benevolent dictatorship. The fact that there are no compulsory handicaps, members are able to choose what they play off, this says a lot about the laid back attitude of the members in general. Perhaps controversial in terms of club management Swinley Forest has certainly made a name for itself in its unorthodox approach to the game. More >
A couple of years back now I had entered what I thought to be a standard medal at my home course of Dunblane New Golf Club. However it wasn't until I had completed a solid 18 holes with net score of 2 under had I realised that the competition was qualifying for a national event which consisted of two further competitions at both the Queens course at Gleneagles and one of the Northern most courses in Scotland, Royal Dornoch. Having played the Queens a few times before, it was always going to be Royal Dornoch that gave me a sense of excitement. As I had not played a 'Royal Golf Course' before it made the occasion one to savour. More >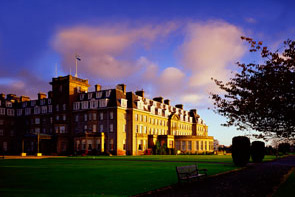 On the 23rd August the golfing world will eagerly tune in to watch the last event in the race for European Ryder Cup qualification, the Johnnie Walker Championship at Gleneagles.  For many this will be the most important tournament of the year with the Ryder Cup European Team scheduled to be announced following the conclusion of this tournament on the 27th August. More >
When golf began to expand in Europe, leaving the shores of Scotland behind, inland courses started to crop up away from the vaunted 'links lands'. A number of golf courses were first built on impervious clay soils with very poor results which lead the likes of Willie Park, Jr., Harry Colt, Herbert Fowler and J.F. Abercromby to begin searching for suitable well drained soils on which to build their golfing creations.
What they settled on was the 'heathlands' which are fast draining, sandy soils often spanning areas with gently rolling terrain. Like the classic links courses such as the St Andrews Old Course, Royal St Georges and Ballybunion,  heathland boast firm, sandy turf that is simply perfect for golf. More >
This week, for the first time since 1953, the Irish Open is heading back to Northern Ireland and, in our opinion, it's about time!
Although parkland beauties like Druids Glen, Adare Manor, Carton House and the Killeen Course at Killarney Golf & Fishing Club, along with links classics such as Portmarnock and Ballybunion, have been fantastic host courses based in the Republic, the courses along the breathtaking coast of Northern Ireland are just too good to ignore. More >
If like me you're a member of a golf club, miles from the coast, happy with your lot, but every now and again feel the urge to test your skills on a different type of golf course, then there are a few options worth considering this summer.
You could stump up a wedge of your hard earned cash and fly off to exotic pastures new to sample the best golf has to offer. There are the seaside courses in the States such as Pebble Beach, Whistling Straits and Bandon Dunes; the desert courses of Dubai and Abu Dhabi and the impossibly exotic courses of the tropics such as Le Touessrok in Mauritius or Sandy Lane in Barbados. As an ardent golfer myself I couldn't criticise anyone opting for a an extended break to any of these fantastic locations but in my opinion there is a lot to be said for a weekend of exploring the seaside delights of the UK & Ireland. After all, why jet to the other side of the world when you have the world's best, classical links courses right on your doorstep? More >
In many ways Ireland's North West is the Cinderella of Irish golf. Despite being a natural beauty, it's often overlooked in favour of its more gregarious siblings in the south west and around Dublin who are constantly shouting about how brilliant they are. But spend some time getting to know this unassuming wallflower and you'll discover a few pleasant surprises along the way. More >